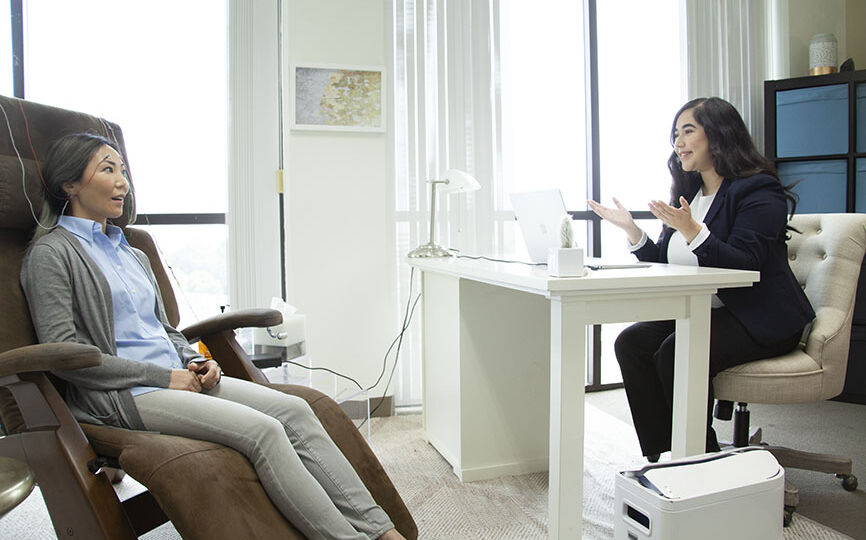 WHAT TO EXPECT DURING A NEUROFEEDBACK SESSION
Neurofeedback therapy is one of the best forms of therapy for anxiety, depression, ADHD, PTSD, and for anyone who simply wants to reach their potential. Rooted in real, tangible science, its benefits are available to everyone as it helps us understand the physiological effects of stress and how to influence our nervous system to produce more calm.
Since neurofeedback sessions are so different from anything most people have experienced before, new clients naturally have questions about what neurofeedback sessions involve. Below, we'll guide you through the process so you know what to expect.
What Happens During a Neurofeedback Session?
Neurofeedback therapy works by delivering a micro signal (1/300th of that emitted by your cell phone) to your brain to essentially "reboot" it, allowing your brain to function more easily. Think of it the same way as restarting your computer when it gets bogged down and slow.
The neurofeedback device usually looks like a laptop with a headset or (more often) several sensors attached. You'll take a seat and the sensors will be placed on your head and you'll watch a screen that reacts to your brainwaves.
On the screen, you'll watch videos or images, listen to music, or play games, and the screen will reward you for calmer, more focused brain activity by making the screen brighter, playing a happy noise, or helping you achieve the goal of the video game.
What Do I Have To Do in a Neurofeedback Session?
You don't really need to do anything – just sit back and relax and engage with whatever is on the screen in front of you. The NeuroCoach guiding you through your session will guide you through, but things are largely happening on a subconscious level. If you go on to do neurofeedback at home, the process is just the same.
Over time, you'll get better at controlling your thoughts and actions so you can actively help your brain be more calm and positive.
How Long Does a Neurofeedback Session Last?
Your first neurofeedback session will last up to 45 minutes, and all subsequent sessions last around 30 minutes.
Is Neurofeedback Safe?
Don't worry, you won't feel a thing during your neurofeedback session and neurofeedback is incredibly safe. After your first few sessions, many people report being able to feel the "wave" of calm soothing their system.
How Long Will It Take To Start Feeling the Effects?
Most clients start feeling the effects from the first or second session, though it will take multiple sessions to start feeling long-lasting results. Most of the early improvements from your initial sessions last anywhere from 2 hours to 2 days.
We recommend 2 sessions per week for the first 3 weeks, maintained over the course of 6 – 12 months. After 15-25 sessions, we see enduring results. We can speed up the process for those only in Los Angeles for a short period of time to fit in 20 sessions over just a few weeks.
Are There Any Neurofeedback Side Effects?
Experiencing side effects after neurofeedback is rare, and the majority of people only experience more calm right from the first session. That said, all people are different, and some may experience fatigue, a temporary increase of anxiety (this usually goes away during the session), headache, feeling "wired", nausea, and difficulty concentrating. After just a few sessions, these side effects usually clear up entirely.
If you have (or have ever experienced) a neurological condition or injury, such as epilepsy or stroke, make sure you tell your provider – neurofeedback therapy is safe for everyone, but they'll be able to make sure your treatment is suitable for your history.
What Are the Benefits of Neurofeedback?
Some of the ways neurofeedback therapy helps are:
Reducing fight or flight responses
Helps arouse the nervous system to lift mood and energy levels
Reduce the occurrence of headaches
Reduces distractibility and increases the ability to focus
Eases feelings of anxiety
Relaxes tense muscles due to stress or chronic pain
Can I Do Neurofeedback at Home?
How to Get Started
Once you've decided to try neurofeedback therapy, your next step should be to book your Intro Appointment at our West LA or South Bay office. Your first appointment costs $89 and it's easy to schedule online or by calling (323) 705-3031, which is our 24/7 scheduling line.
Once you've got your appointment, all you need to do is fill in your client details and attend your appointment! You will not be charged for your appointment until you attend. To find out more and to book, click here.