LOS ANGELES NEUROFEEDBACK CENTER
WHAT IS HEARTMATH
Mainstream medicine now recognizes that stress is the cause of many illnesses and disorders.  At LANC, we not only reduce your stress, we also restructure your stress response baseline, so you are less reactive overall.  Seeing is believing and HeartMath is our Biofeedback Therapy to show you in real time how to assess and regulate your own coherent state.  Using HeartMath biofeedback therapy, you become skilled at renewing your energy levels, increasing your anti-aging hormones, improving your performance and resiliency.
The HeartMath System helps you build Coherence – an optimal physiological, coherent state where the heart and brain, and emotions align in cooperation and harmony.  Based on over 300 academic papers and recommended by health professionals worldwide, a few minutes of daily coherence practice has been shown to reduce stress, increase energy and resilience, balance hormones, and improve mental clarity and performance. Stop the drain of stress so you bring your best self to life, book your HeartMath Consultation today!
CALL TODAY TO SCHEDULE YOUR APPOINTMENT WITH OUR HEARTMATH-TRAINED NEUROCOACH
(323) 705-3031
THE IMPACT OF STRESS
Stress is a term used to describe the wear and tear the body experiences in reaction to everyday tensions and pressures. Change, illness, injury or career and lifestyle changes are common causes of stress. It is how we respond, however, to the emotional stress, pressure, and tension we feel from the little everyday hassles that do the most damage.
Stress affects people physically, mentally and emotionally. According to the American Institute of Stress, up to 90% of all health problems are related to stress. Too much stress can contribute to many health problems, including heart disease, high blood pressure, stroke, depression and sleep disorders. Everyone responds to stress differently.
Take this quick test to see if you are experiencing stress. The items you check will reveal how much stress is affecting your life.
HEARTMATH SOLUTION & POSITIVE EMOTIONS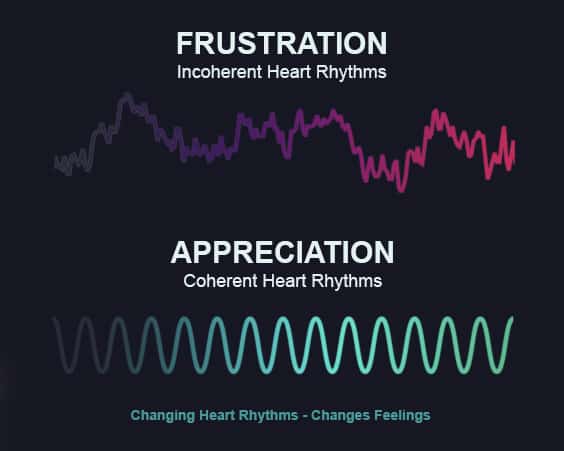 The first step is to understand how stress works. It is not the events or situations that do the harm, but rather how you respond to those events. More precisely, it is how you feel about them that determines whether you are stressed. Emotions, or feelings have a powerful impact on the human body, hence why emotional focused therapy exists. Positive emotions like appreciation, care and love not only feel good, they are good for you. They help your body's systems synchronize and work better, as a well-tuned car. People intuitively understand this as they develop emotional focused coping skills like watching movies or listening to music.
Research at the Institute of HeartMath has shown that when you intentionally shift to a positive emotion, heart rhythms immediately change. This shift in heart rhythms creates a favorable cascade of neural, hormonal and biochemical events that benefit the entire body. The effects are both immediate and long lasting. Research has shown improvements in brain function, emotional processes and emotional stability, and cognitive function, when using the HeartMath solution to regulate your heart rhythms.
"The LANC NeuroCoaches are compassionate, brilliant, and truly caring individuals. On top of that this technology has given me my life back."
– T.E., LOS ANGELES CLIENT
THE BASICS OF A HEART COHERENT STATE
When you're stressed, your body is out of sync. Negative emotions we feel when in emotional stress such as anger, frustration, anxiety and worry lead to increased disorder in heart rhythms and the nervous system, including making it near impossible to maintain parasympathetic activity. In contrast, positive emotions like joy, appreciation, care and kindness create harmony in heart rhythms and the nervous system. Other bodily systems sync up to this rhythm, a process scientists call a coherent state. Because a coherent state leads to more mental clarity, creativity and better problem-solving abilities, it is easier to find solutions and better ways of handling stressful situations.
Since 1991, HeartMath has researched and refined proprietary technology designed to measurably improve resilience, performance, health and productivity, while dramatically reducing stress. Published studies and hundreds of client outcomes confirm significant, sustained improvements in stress levels, cognitive state, emotional function, and physiology in corporate, government and health care settings around the world. HeartMath's award‐winning technology are key components in the success of the HeartMath program.  They comprise a comprehensive solution that measurably and immediately re-trains the human stress response to a healthier, more productive emotional function and cognitive function.
START HEARTMATH NOW
Schedule a HeartMath Intro Session. In the session we will assess your goals, your readiness for change, and any perceived barriers. You will experience in real time via the HeartMath technology how you can affect your self-regulation, plus acquire techniques and explore applications in your daily life while developing a personal plan for moving from depletion to renewal. You can also choose to purchase one of 2 home biofeedback devices, including the award winning HeartMath Inner Balance.
The intro session is for clients ready to take responsibility for the depleting effect of unregulated emotions.  The HeartMath System benefits chronic low energy/fatigue, sleeplessness, emotional eating, generalized anxiety, test and performance anxiety, chronic pain, anger/conflict resolution, OCD, trauma, addictions/impulse control, and depression. Call today to schedule your appointment with our HeartMath-trained NeuroCoach. Mention the appreciation and frustration graph on this page in your first appointment and receive 10% off your intro session!
LOS ANGELES NEUROFEEDBACK CENTER TEAM
WEST LA OFFICE
12121 Wilshire Blvd., Suite 810, LA, CA 90025
Phone: (323) 705-3031
WORKING HOURS
Monday – Friday: 7:00am – 7:00pm
Saturday: 8:30am – 7:00pm
Sunday: 9:00am – 6:30pm
SANTA BARBARA OFFICE
2329 Oak Park Ln., #1, Santa Barbara, CA 93105
Phone: (805) 322-4375
santabarbaraneurofeedbackcenter.com
WORKING HOURS
Tuesday – Saturday: 10:00am – 4:00pm
Sunday – Monday: 12:00pm – 6:00pm
SCHEDULE APPOINTMENT
To schedule an online appointment with a neurofeedback provider or neurocoach specialist at our West LA or South Bay offices, please click on the button below.
Call today to schedule your appointment with our HeartMath-trained NeuroCoach!