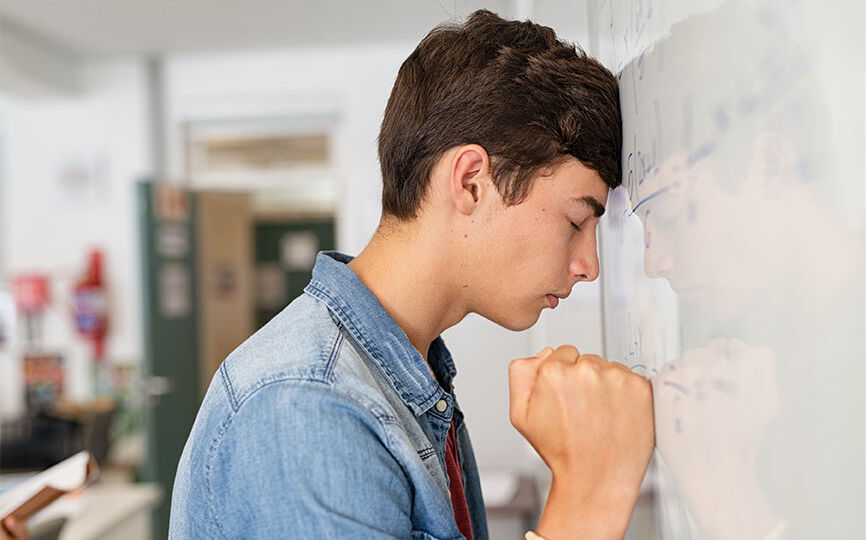 HOW NEUROFEEDBACK CAN HELP WITH SCHOOL ANXIETY
Our childhood and adolescent years are turbulent; our brains and bodies are growing and changing, and everyone around us is going through similar experiences. We navigate new friendships, challenges with our school work, and start to learn who we really are.
Add to that normal life stresses and the crazy few years we've had on a global scale (the pandemic, high political tensions), and you can see why children and teenagers are feeling back-to-school anxiety.
Whether your child's anxiety about school seems to be new or something you've been battling for years, neurofeedback can help.
What Are Signs of School Anxiety?
Sometimes, your child or teenager will simply tell you that they're worried or fearful about going to school, but often they'll hold it in. Some of the signs to look out for are:
Seeming withdrawn and in their own thoughts
Trying to avoid talking about or getting ready for school
More reactivity than normal about small things
Regressions such as bedwetting
Difficulty making decisions
Feeling worried about other things in their lives they normally wouldn't
If they haven't openly told you about their worries or concerns, make sure you approach them carefully. Anxiety about school often feels embarrassing, so make sure you avoid language like "just", "simple", "should", and "easy". Try to keep an open dialogue with your child and ask questions with care.
What is Neurofeedback?
Neurofeedback can work in a few different ways; the first is "direct neurofeedback", which we do here in our Los Angeles center. Direct neurofeedback delivers a micro signal (1/300th emitted by a cell phone) to the brain, which acts as a "reboot", allowing the brain to better regulate itself. These sessions take around 30 minutes and are completed in short succession to get the best results.
The more traditional form of neurofeedback works like a workout for your brain. A discreet headset or sensors are placed around the temples on the scalp and are used to interact with visual or auditory stimuli to produce certain results. This means your child can play games while learning how to calm their brain! This type of neurofeedback is ideal for kids and can be done at home using our Myndlift device, software, and app. Find out more about Myndlift here.
How Does Neurofeedback Help With School Anxiety?
Neurofeedback is one of the best school anxiety solutions because it empowers children and teens to take control of their mental state. Anxiety comes as our thoughts spiral away from us, reacting to conscious or subconscious worries that are often (but not always) irrational.
Neurofeedback teaches children and teenagers how to calm their internal state and guide their thoughts and feelings away from fear and panic. In just a few sessions, your child will feel better able to control feelings of anxiety and panic and have fewer fearful reactions.
Other benefits you'll see as a result of neurofeedback:
A more positive outlook on life
More confidence
Less reactive to stressors (including sensory overload)
Increased motivation
A willingness to try new things
3 Tips to Help Reduce Back-To-School Anxiety
To give your child the best chance of overcoming their back-to-school anxiety quickly, it's best to support them wherever you can. Here are some additional tips to help you support your child:
Try to provide confidence-building activities: when you have an anxious child it can be tempting to try and keep them from stressful situations entirely but try to find activities that will push them just enough. For example, if they're struggling to make friends at school and they've wanted to try horseback riding for years, now may be the time to enroll them in a group riding lesson.
Try combining neurofeedback with talk therapy: If you feel as though your child's anxiety goes deeper than simple back-to-school nerves, consider combining their neurofeedback training with talk therapy. The two therapies can work together to provide your child with complete support.
3. Use their neurofeedback training to develop healthy confidence and resilience, not endurance: It can be hard to get your child to open up to you about problems they're facing, especially if your child is a teenager with school anxiety. But if they are miserable at school, things aren't improving, and they want to move schools, try to accommodate them. There's a difference between overcoming fears and worries and enduring a toxic environment. Neurofeedback training can support them as they find confidence with a fresh start in a more positive environment.
Learn More to Help Stop Anxiety in School